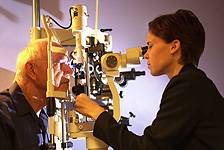 Having a surgical procedure to correct your myopia, hyperopia or astigmatism is a major decision. Our eye doctors will evaluate your eyes and discuss your visual goals to help determine if you are an appropriate candidate for LASIK, PRK or Cataract Refractive Technology. If you decide to proceed, we work with top refractive surgeons in the area to ensure that you have the best procedure possible. We provide the pre-operative exam and measurements and the post-operative care and treatment. Evaluation of any additional needs such as reading glasses, sunglasses, or enhancement laser procedures is also included.
Read more about Latisse.
For an eye exam in Burlington, schedule an appointment today.
Learn More About Dry Eye Treatment in Burlington